His Excellency Hor Nambora, who will be 50 in July, is the Cambodian Ambassador to Great Britain, moving to his post in London in October 2004, whilst expressing his pride at being the first Ambassador since the embassy was closed in 1975. At the time of the Khmer Rouge takeover of his country that year, Nambora was studying in Paris and on his return, was sent to a labour camp. His family lost up to thirty members during that period and his first job in the aftermath was as a researcher and archivist at the Tuol Sleng Genocide Museum for five years from 1980. Of the recent efforts to bring the KR leaders to book for their crimes, Nambora says, "It's very important for the Cambodian people that the tribunal takes place…we need this tribunal to clear the past, to clear history and to move on."

A career as a diplomat seemed inevitable for Nambora. He's one of five children, and his father is Hor Nam Hong, Cambodia's current Deputy Prime Minister and Foreign Minister and one of their country's key political figures. Prior to his posting to London, Nambora spent five successful years as the Ambassador to Australia and New Zealand, which followed a brief period as a political appointee as an Under Secretary of State. Following his Tuol Sleng job, he was director of Humanitarian Relief in the port of Sihanoukville, before joining the Foreign Ministry and subsequent postings in Bangkok and Geneva. Married with three children, his current Ambassadorial portfolio also includes Sweden, Finland, Denmark and Norway. Below: HE Hor Nambora presents his credentials to Queen Elizabeth II.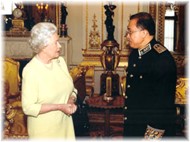 * * * * *
Tomorrow (Saturday) is a BIG day. The first final to be played at the brand new Wembley Stadium will be the FA Trophy Final and involves my team, Kidderminster Harriers, against Stevenage, kick-off at 2.15pm. I'll be there, with my brother Tim, exercising my lungs to their fullest capacity. We have £25 seats near the Royal Box (there are rumours the crowd may reach 80,000!) and we'll make a day of it with a cooked English breakfast in a greasy spoon cafe early tomorrow morning and drive up to the outskirts of London, to meet up with our Harriers' pals for a pre-match beverage. On our day, the Harriers can beat anyone, lets hope tomorrow is THAT day.