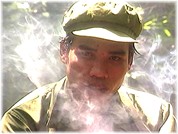 Inside The Khmer Rouge, produced in 1990, is the 4th of half a dozen David A Feingold documentaries I've been sent by DER Films, to celebrate their release on dvd for public consumption. The fruits of a two-year research project on the Khmer Rouge (KR) by producer Feingold and director Shari Robertson, including unprecedented access 'behind the lines,' the film explores the movement's development in a historical perspective, drawing on interviews with Khieu Samphan, the smiling diplomatic face of the KR, General Son Sen, the feared leader of the KR army, his forest-dwelling guerrillas and Cambodians living in refugee camps along the Thai-Cambodian border. A western viewpoint came from Francois Gruenwald.

The film highlights the real cause for concern throughout Cambodia at the time, that the KR had rebuilt themselves militarily, politically and diplomatically and were poised to take charge once again, either through the polls or by force. Against them, the State of Cambodia (SOC) army appeared poorly armed and ill-organized - a fragile shield against the battle-hardened KR units like the 450th special forces unit which the documentary team followed on patrol. Anti-Vietnamese rhetoric was the key focus of the KR message with Son Sen's softly-spoken 'butter wouldn't melt' routine fooling no-one. With the SOC suffering food shortages and a withdrawal of military and logistic support, Foreign Minister Hor Namhong issued a stark warning about the return of the KR to power by any means.

The 45 minute documentary was co-produced with BBC's Assignment series, FR3 in France and WDR in Germany. You can see a clip from the dvd, and purchase it at the DER website
here
.