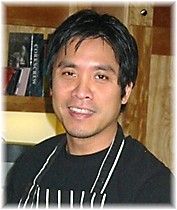 Jonathan Deddis is a well-respected London-based chef who has an unusual personal history. Jonathan (pictured above) is Cambodian – his Khmer name was Sutheephelk – and he was adopted by his Northern Ireland parents in the early 70s, thanks to the personal intervention of Ian Paisley, and it's this colourful background that has acted as the springboard for his involvement in a range of fund-raising activities. His latest is to run the Edinburgh Marathon on 27 May, where he's set himself a target of raising £2,000 to be split between two charities, Save The Children Fund and SAO Cambodia. Now 38 and married with two children of his own, Jonathan embarked on his career in catering by studying at Portsmouth College before moving to London. He has a burning desire to return to the country of his birth but for the time being, he's playing his part in helping the children of Cambodia. I asked Jonathan for an insight into his background.

Q. what do you know of your childhood, and adoption?
I only remember waking up and hearing people shouting and loud explosions all the time, also it was very hot. I used to have these memories when I was living in Northern Ireland. About the adoption, I remember only of being on a plane and going into the cockpit and meeting the pilots and seeing all the different switches and controls. Then arriving at Heathrow and all four of us children being taken away by different parents. Arriving at Belfast airport and getting in a car and seeing my new brother and sister, and waking up in the morning and seeing this monkey teddy bear hanging on the bedroom door. My first word was jam, must've been spreading it on toast in the morning.
Q. how did you adapt to your new home, family and environment?
It was very easy to adapt to my new life, I was about 3 or 4 years old and didn't feel left out ever. The school used to help raise money for Cambodia, so my part was to let people pick me up and guess my weight - I was very thin and had suffered from malnutrition. I still have the clothes I wore and pictures of me when I first arrived. The only records they have of me was my name, Sutheephelk and born in Phnom Penh. My date of birth given to me was my Irish grandmother's date of birth, whom I never met, as she died in 1968. I was the only ethnic child in primary right up to college level. So I got a bit of stick now and again from other children but nothing too bad, I never told my parents about it, just dealt with it myself. I used to compete in Olympic freestyle wrestling, I was Irish champion and second in the British Championship, and also got picked for the Commonwealth Games but dislocated my thumb 3 months before the games so I didn't go. I got a lot of newspaper and school publicity from that, so everyone at school was nice to me and respected me after that.
Q. how did your desire to be a chef develop?
My mum was a great cook so I helped her a lot and I used to cook Sunday lunch and make cakes and biscuits most days when I was home. I decided to go to catering college and passed as top student and then worked in London and Switzerland learning pastry and desserts. Eventually I came back to London and now I'm a private chef for a Hong Kong-Chinese family. I travel with them sometimes and cook for them in St Tropez or America, where they have homes.
Q. how has your Cambodian identity been a factor in your life?
I noticed more and wanted to find out about my identity when I came to London and met more Asian people here, and the cuisine was a major factor. When I tried palm sugar and mangoes for the first time it brought back memories of a taste I had eaten before! Because of my own stupidity, I went through a phase of my life when I didn't speak to my family for two years, I felt they weren't my real family and that I was Cambodian not Irish. I am glad I grew out of this and I am happy about my identity now. Through SAO Cambodia and Ivor Greer, who helps run the charity and is from Northern Ireland, I want to go to Cambodia and help the people and try and trace, if I can, my family history. I am running the Edinburgh Marathon on the 27th May for Save the Children Fund and SAO Cambodia. I really feel blessed to be alive and realise I was saved so I can do my bit to help the children in my birth country. Sooner or later I will go back which I know will be very emotional for me but will hopefully trigger something for me to remember other events in my past.

If you want to support Jonathan in his forthcoming marathon run, click here. Find out more about his chosen charities at SAO Cambodia and Save The Children.