Some might say, rather sadly, I used to spend a lot of time at the reference library in my teens and early twenties. When I wasn't reading the odd book to be found on Cambodia, I was researching a book I wanted to compile on Cheltenham Town football club. Here's an article that was published in The Gloucestershire Echo on 20 March 1982.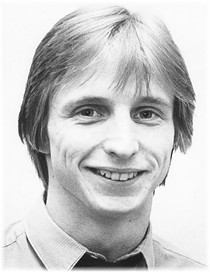 Andy Brouwer delves into the Robins' past

Not many people would be content to spend much of their lives collecting information for a book which will probably never be written and which, if it was, would likely find few readers anyway, writes Derek Goddard. Andy Brouwer is more than happy to do just that. For the past seven years, he has spent hours browsing in libraries and interviewing old players researching the history of Cheltenham Town AFC. So far, the result of his many hours' of loving labour is a mass of notebooks full of jottings and one day, one day, he will begin to try to sort it all out.

Brouwer (22), and a clerk at the Cheltenham and Gloucester Building Society, finds fascination in the kind of detail that throws up men like Jack Wheeler, once Cheltenham's goalkeeper. Wheeler is now sponge-man at Notts County: "he holds the record for the most sponge-man appearances – he made more than 1,000 on the trot," reveals Mr Brouwer. And Cecil Green, another ex-Robin who is now a director at Swindon Town, once wrote his a nine-page letter…. Jerry Woodrow, club secretary and a player before the war and now 82 and registered blind, wrote, with the help of his wife, a series of letters.

Brouwer's involvement with the club began in August 1971, when he was 11. He had just moved to live near GCHQ at Oakley and discovered, through new-found friends, that Cheltenham had a football club. The first match he saw was a 1-1 draw Ilkeston, and he has not missed a home game since. For the last five years, he has not missed an away match either. His involvement became more active when he went to work at the building society on leaving Cheltenham Grammar School at 16, and met Richard Jones, the chairman of the Robins' Supporters Association and programme editor. At the start of the 1978-79 season, Jones asked Brouwer to take over the programme, and he has been spending all day Sunday, Monday and Tuesday evenings, doing the work ever since.

He gets nothing but satisfaction from doing it: "I just have this consuming interest in non-league football, and I have various contacts who keep me informed what is going on. One in Oswestry tells me things that are happening in the north, and so on." It would be his delight if his programme was adjudged the best of any in non-league soccer. He did quite well when he was awarded second place in the Southern League section of the Wirral national programme survey last season. "The club that beat me was Kidderminster Harriers – and they were second overall out of more than 500 entries," he says, proudly.

The idea for a book began while he was still at school. He heard that they had played Blackpool in the third round of the FA Cup, wanted to find out more about it, and spent the first of limitless hours in the reference library. "It is such a time consuming thing. When I was at school, I used to spend all my holidays in the library reading old newspapers and writing down all the facts and figures. The 1920s and 1930s are pretty well covered, but before that, the information is in dribs and drabs. Nobody knows exactly when the club was formed. They say it was 1892, but I think it was before that."

Like all supporters, he has particular memories from matches he has watched: at Altrincham, when Dave Lewis played in goal and Dennis Brown scored two early gaols to carry them through: Lewis again, hurling himself through the mud for a magnificent headed goal against Banbury United… This season's two-match pulverising of Bath City stands high; a 4-3 win at Bath in the FA Trophy in 1974 with Lewis' late hat-trick; Alan Jefferies' own goal against his goalkeeping brother Malcolm in the FA Cup at Hereford in 1971-72, the season of Hereford's big cup run…all are wedged in his memory. His biggest disappointment was when they failed to qualify for the Alliance Premier League, and a constant frustration is their failure to do themselves justice when extra interest is generated in a match.

Away from work and the football club, he plays Sunday League soccer for EG Bagpuize, who have just finished second in Division One and was with Mosquitos and Whaddon and College as an under-16. At the end of the 1978-79 season he was nominated Cheltenham's supporter of the season and with Martyn Herbert, who has just watched his 400th consecutive game, is vying for the supporter-of-the-century accolade.

Postscript: Cheltenham Town were my hometown team for 15 years, I never missed a home game at Whaddon Road (it was like a drug) and for the final ten years, apart from a fateful day at Chelmsford City, I didn't miss an away match either. Throughout that time, I progressed from standing behind the goal with my pals to programme editor (a labour of love that I did for eight years), as well as public address announcer, local radio reporter (with Severn Sound for five years) and part-time reporter for a few newspapers. There were some great times, a few not so great times and a bagful of memories before I became disillusioned and accepted an offer - a free transfer in football parlance - to join Kidderminster Harriers, as their programme editor for the next four years. In my first season, we reached the FA Trophy final at Wembley and won the replay at West Brom, which was probably the greatest single night of football I've experienced as a fan. In 1990 I decided to hang up my pen after twelve years as programme editor with Cheltenham Town and Kidderminster and began playing local Saturday football in Cheltenham, at the tender age of 31.