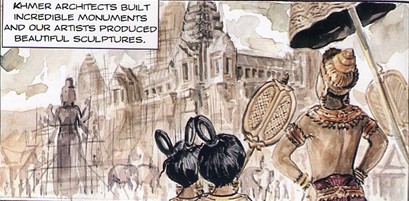 The excellent illustration above is taken from the HeritageWatch comic book, Wrath of the Phantom Army, part of their awareness campaign using radio and television commercials alongwith educational comics and storybooks, and aimed at Khmers and tourists alike, informing them of the looting and plundering that is affecting Cambodia's heritage.

The comic panel, and book, are the work of artist and professor Y Lida. In the mid-80s, he studied traditional Khmer art and cloth painting at the University of Fine Arts. In 1999 he began teaching at the same university, while his commercial work has focused mainly on painting and illustrations with much of it for nonprofit organisations like SIPAR, PSI, Room to Read and HeritageWatch.
What I'd like to see is a comic book of Y Lida's superb illustrations showing a series of Angkorean temples in their glorious heyday, juxtaposed with how they look today, either trampled underfoot by hordes of tourists or consumed by vegetation and jungle. Or how about a series of illustrations to accompany Geoff Ryman's novel, The King's Last Song, about life in the time of Jayavarman VII. Just a thought...