Let me take you all the way back to November 1994 and my first foray into Cambodia. To say it was a five-day white-knuckle ride of an adventure is perhaps understating exactly how thrilled I was, but also how apprehensive I felt at the same time. Here's how my local newspaper, The Gloucestershire Echo, reported my visit the week after I returned home. Back in 1994 a visitor to Cambodia was big news here in the UK - they even sent a photographer out to my house - I can only imagine it must've been a slow week for news items!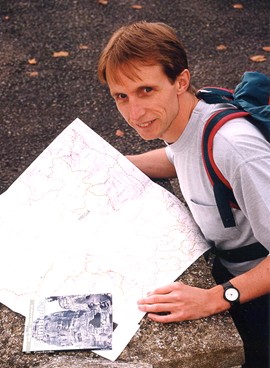 Home from 'killing fields'
Girlfriend's joy as Andy comes back safe

Traveller Andy Brouwer has returned home safe and sound from war-ravaged Cambodia – to the relief of his worried girlfriend. Three western hostages, including a British tourist, were beaten to death by Khmer Rouge guerrillas during his stay in the country. Mr Brouwer, 35, of London Road, Cheltenham, was unaware of the concern over the hostages until his frantic girlfriend Sue Oliver managed to telephone him five days into his trip. "I was unaware of what was going on, because I had no access to television or radio news. As far as I was concerned, the threat was miniscule," Mr Brouwer said. "The three guys who were captured had not done the right things, like keeping to the most obvious tourist routes. They had gone on a local train and they were captured after it was derailed. I was not going to put myself in that position."
He was aware of the Foreign Office's warning against visits because of the continued danger of Khmer Rouge guerrilla attacks in the country, which was the subject of the hit film The Killing Fields. "I had read a lot about Cambodia and knew a lot about it, but I wanted to get first-hand experience," Mr Brouwer said. "My visit was not a back-packing holiday. I organised flights, hotels and tours before I went out, so I was not going into the unknown."
Mr Brouwer visited the capital, Phnom Penh, and the Temples of Angkor – the biggest religious temple site in the world. Miss Oliver, 35, said: "I was very concerned to make sure he was all right, and it was only at the fourth attempt, because the lines were so bad, that I managed to get through to the hotel to speak to him."

I recall that telephone call as I was sitting in my room in the Hawaii Hotel in Phnom Penh. My girlfriend was frantic with worry but I was completely oblivious to the events unfolding around me. Even King Sihanouk was interviewed on the TV news suggesting that tourists should stay away from the country! Sadly, the Hawaii hotel is no longer in business, whilst the chalets of the Diamond hotel in Siem Reap have been renamed. But my memories from my first adventure into Cambodia remain engraved on my consciousness and I've been lucky enough to return each year to add to my library of memories. Here's a picture of me from that first trip, sitting on the steep steps leading to the top of Angkor Wat.