For many readers, getting hold of a copy of TouchStone, the quarterly magazine produced by Cambodian NGO HeritageWatch, is impossible. Which is a real pity as it contains a lot of very interesting articles including this focus on, and interview with, filmmaker Rithy Panh, which I've reproduced here.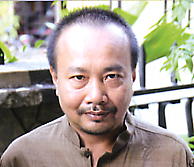 Bridging Generations
Cambodia's premier filmmaker Rithy Panh (pictured) talks with TouchStone about Cambodia's future, film and the events that have influenced his craft.
Decades of wars, military coups and the genocide of the Khmer Rouge regime have profoundly affected the Cambodian people. Beyond the millions of deaths, the Khmer Rouge destroyed an entire identity and a culture. Today few archives remain from the Cambodian audiovisual heritage. In hope of giving Cambodians back their heritage, the Bophana Audiovisual Resource Center patiently collects pieces of Cambodian memories and is committed to supporting development in the audiovisual sector by implementing an audiovisual training programs and production.
Why did you name the Center Bophana? The name emphasizes the intention to relay the message of resistance, courage and dignity, as left by a 25 year old woman detained in the Khmer Rouge's infamous S21 prison named Bophana. The main project is to reconstruct the Cambodian audiovisual heritage. Creating access to memory is fundamental to transmit history and culture to future generations and to build a future together.
What are the Center's objectives? Rich or poor, it is for everyone. We want to generate respect among Cambodians, to be proud and to learn to love their heritage and culture. Bophana was never designed to be a national archive but a space where everyone can go, watch and interact – access is the key. Some of the footage in our archives dates back to as early as the late 19th century, years before the first movie was released. When Cambodians watch the footage we have here you can literally see their faces light up, as though something new has stirred.
How will this help prospective Cambodian filmmakers? Images play a very central role in supporting education. We need to train a new generation of filmmakers focusing on history. Modern film making in Hollywood and Cambodia is fine, I have nothing against it as it ultimately imparts knowledge and skills for the whole process from technicians and directors to editing and even make-up. Ultimately I want to teach my students and the young generation of Cambodia to know about more than entertainment, I want them to know how to create cinema.
How did you end up in France? I was born in the 1960s in Tuol Kork in Phnom Penh. In 1975, like so many others, my family was forcefully relocated by the Khmer Rouge to a very harsh and cruel existence in Battambang province. I was one of the few members of my family who survived. When I wanted to leave Cambodia all I knew was that I wanted to get away for a while. I had to get away, anywhere. At the time Australia seemed like a good option – it's an enormous country where I could hide out and not have to ever see or speak to anyone, ever. However, I had family in France already so that is where I ended up going.
How did you first get involved in film? By accident really. I knew of Yule Brenner and Charlie Chaplin but that was about it. I was suffering and the memories of what had happened during the Khmer Rouge regime to me, my family and others, every day I felt like I was drowning, I couldn't breathe or find a way out of my anguish and sorrow. How is it possible to recapture your life and move on when you are haunted by why you didn't save your parents or children? I needed to find a release. After dabbling in painting, music and writing, all of which I was particularly bad at, someone gave me a small cinema and it felt good. Someone then recommended I attend a famous film school in Paris. I was very interested but mainly because I was told I could get an ID card that would entitle me three years of free movies!
When did you come back to Cambodia? I came back to Cambodia in 1988 and filmed a documentary on the refugee camps at the Thai border. This was my first film here and the first documentary by a Cambodian director on refugee camps.
Does your experience during the Khmer Rouge affect your life today? Yes, of course, on so many levels, it is who I am ask anyone that has been through something like this, ask the Jewish people and the Rwandans. More than war, genocide affects you so deep inside, it is total destruction of your core being; it aims to destroy the humanity in you and the humanity around you in each and every person. It destroys your ability to speak, to laugh and to play. To come back you have to learn everything again. When you don't have parents or a base, you end up without any roots so I tend to go wherever and whenever I feel the need to move on.
How did the Khmer Rouge regime affect Cambodia's identity? When you rebuild a country you have to rebuild identity. Genocide destroys culture and identity. Sadly, the Khmer Rouge killed many intellectuals, which is why we need to rebuild the memory first – if you don't link this then there will be impunity, and then you will always have problems.
Your film S21 is notorious for its graphic and emotional account of the torture prison of Tuol Sleng, why did you make this film? I wanted to give those that died here some dignity – for the world to understand what happened and how it happened. We found the perpetrators were eager to express their point of view and their pain. Over a ten year period, I had to train a completely Khmer crew to gain the trust of those we were filming and re-counting their stories, men and women, the victims and the perpetrators of the regime, still alive today in the villages of Cambodia. I don't want people to watch this and go out partying after. It's for the world to stop and to think. This happened in Cambodia, but it could have been anywhere and it's still happening today, we keep making the same mistakes and allowing it to happen.
Do you believe it's important the younger generation are educated in school about the KR regime? Yes, absolutely. Now it is only given a few pages of attention in their history classes. It needs more. A bridge is broken. As the older generations have died, are too ill or old, it's up to my generation to play a role like a bridge between the younger ones of today – they have to know what happened to heal the country.
Can you name someone or something that is inspiring to you? I was once in India and went to the home of where Ghandi lived. There was a book with an inscription that read something along the lines of 'real generosity is not about giving and indulging, it's about never taking more than what you actually need'. That really affected me and still does today, especially with the way our society behaves. We need to think beyond today, everything is of consequence and we need to start taking responsibility for our actions.