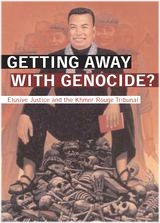 The unsettling picture of a grinning Pol Pot sat on a pile of his victims on the cover of the book Getting Away With Genocide by authors Tom Fawthrop and Helen Jarvis, is from an original painting by Cambodian artist Hen Sophal and is called 'The Evil Smile of Pol Pot'. Its known as Sophal's signature piece and the artist is widely regarded as one of Cambodia's best contemporary artists, with his work featuring in numerous exhibitions. His flattering portraits of Phnom Penh's smart set were his stock-in-trade until he was encouraged to explore corruption and the darker side of the capital's nightlife. He was initially reluctant to delve into controversial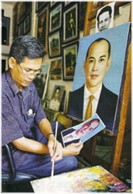 areas, though his melancholic paintings of nighttime Phnom Penh depict a side of life not normally seen in the art for sale in the majority of the capital's shops.

Exhibitions such as Visions of the Future in 2003, where Sophal depicted a well-dressed government official, drinking alcohol and smoking, with a calendar photo of a nude woman on the wall to signify the corruption endemic in his country, or the Visual Arts Open exhibition in 2005 have given his work a welcome injection of recognition and publicity, both inside and outside Cambodia. Born in Phnom Penh, Sophal, 48, studied at the School of Fine Arts in the early 1980s. He now combines his portraiture work with paintings of his country's social and economic ills in his work. Right, he paints King Norodom Sihamoni in oils.