I recalled my first foray to Cambodia in November 1994 in a blog post a couple of days ago. Well, at the exact same time, the following article appeared in The Pink Un, the local sports newspaper. Again, I think proper sports stories were sadly lacking that week! I'm currently moving home and have found a few articles which I'll post here for posterity sake over the next few weeks. Football and music are my two loves, besides Cambodia.

Nothing to shout about says Brouwer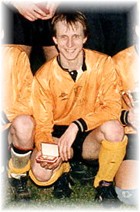 Eighty-seven goals in 53 matches is some record, whatever the level of football but Hatherley Rangers' Andy Brouwer is not shouting about his incredible tally. A former programme editor at Cheltenham Town and Kidderminster Harriers, Brouwer's record has played a major part in Hatherley's rise to the top of Endsleigh Cheltenham League Division Five in only their second season since their foundation. But he is honest enough to admit that the standard of football has a lot to do with his strike rate. "You have to remember that we are in Division Five," he said. "But that is one of the reasons I do play, because I enjoy scoring so much and at this level you are almost guaranteed a goal."

That is not far from the truth, either, as Brouwer's record this season – 31 goals from 17 games - indicates. He was no so successful when he played for Division One Woodmancote – 'I was in midfield' – but has since repaid Hatherley secretary Pete Newcombe's faith in him. "The Old Pats side I played for was disbanding and I wanted to found a new Saturday team," he said. "I asked Andy to come and play for us and he has proved highly prolific and his goals helped us win the treble of Division Six, the County Cup and the Charities Cup. It is at a low level but no matter what the level, it is still a good record." Brouwer (35) has not had it all his own way this season, however, and he has had a good partner in Paul Lawrence, who at 21 is almost the exception in a side with more than half its players over 30. Lawrence and Brouwer have hit 10 goals each in their last five league games.

A year earlier in 1993, I joined Hatherley Rangers, in the bottom division of the Cheltenham League and began a run of eight successful seasons in which we won two divisional titles, four other promotions, two cups and had a lot of fun. On a personal level, I bagged 237 goals in 220 games with Hatherley so I was happy with my contribution before retiring from active football service in April 2001. I can't believe its been six years since I hung up my boots.