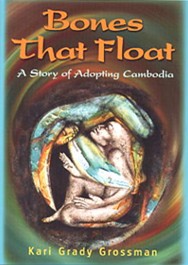 Cambodia gatecrashes your psyche, it worms its way into every pore of your body and it captures your heart like nowhere else. That's how I feel about Cambodia and in her book, Bones That Float, A Story of Adopting Cambodia, Kari Grady Grossman exudes similar feelings for this magical faraway land. Not only did Kari and George Grady Grossman adopt a son, they also adopted a country and its culture. Bones That Float is a beautifully written book - it felt like a tutorial in love, as well as lessons in history, survival, cooking and hope for the future - that brought me to tears and happiness in equal measure. I loved it.

It's the journey to parenthood for Kari and George with the adoption of Grady and a search for his birthfamily, weaved amongst two other tales, of Amanda and her family's story of survival, and Sovann, bursting with typical Khmer ingenuity but forever dreaming of a life in America. The legacy of Grady's adoption is a lasting one. Kari and George founded a school in their son's honour in 2001 and 25% of the proceeds from this book will support the school as it makes a real difference to the lives of nearly 500 children in the remote village of Chrauk Tiek.
Bones That Float is available in major bookstores and online booksellers, however, the best way to ensure more money goes towards the school is by purchasing it directly from
www.bonesthatfloat.com
or by mail from Wild Heaven Press. Go to the book's website to find out more about Kari and her story, and I urge you to visit the school's
website
to read a lot more about this on-going success story.