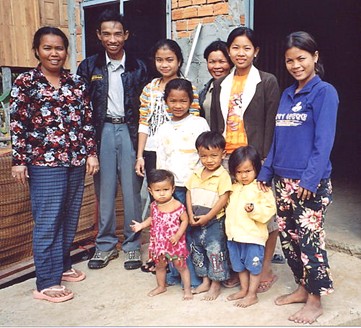 Above LtoR: Sroy, Sokhom and Kunthea alongwith three of Sroy's sisters and their children.
If you've read my Cambodia Tales, you'll now that
Sokhom
and his family, who live in Kompong Thom, are some of my very best friends in Cambodia. I've known Sokhom for eight years and we hook up for some adventurous trips into the countryside on his trusty Daelim moto every year. In January I met some of his extended family members when we visited his wife Sroy's father's house. Thai has been a commune chief in Kompong Thom for many years and he told me that his party, Sam Rainsy, is very popular in the city. We had a long chat about politics before everyone lined up for some family photos. As I experience throughout my travels, Thai and his wife Sun and their family gave me a wonderfully friendly welcome. Find out more about Sokhom
here
.
Below LtoR: Sun, Thai, Kunthea and their next door neighbour.