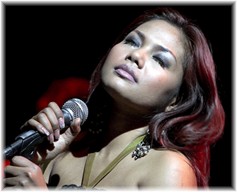 I don't really need an excuse to post a photo of the lovely Chhom Nimol, the lead singer with the Los Angeles band Dengue Fever, but a new, feature-length documentary, Sleepwalking Through The Mekong, showing the group's first live shows in Cambodia was debuted at the Silver Lake film festival at the weekend. Director John Pirozzi, who's also responsible for the forthcoming film Don't Think I've Forgotten, followed the band to Cambodia in 2005, where they found inspiration at every turn and gained a deeper appreciation of the music that brought them there. Nimol also discovered new things about her native land and found a reconnection with her culture. Dengue Fever are hot to trot at the moment, playing their unique 'Khmer Rock' sound and are planning a third album release this year, having toured almost constantly, both home and abroad, in 2006. Find out more about the band here and watch a clip from the documentary.

Staying on the film scene, the DVD of the bio-pic of singer Ros Sereysothea,
The Golden Voice
, is now available to buy direct from the film's
website
.