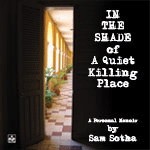 How did I miss the launch of Sam Sotha's book in March? Nevertheless I did, so here's the low-down on Sam Sotha's In The Shade of A Quiet Killing Place.
Like a million or so others, Sam Sotha and his wife Sony were forced out of Phnom Penh in April 1975. This highly moving personal story - in the form of a diary and drawings - describes Sam's and Sony's ordeal over the next four years and how during the course of their struggle, they found strength in their Christian faith. As they crossed Cambodia from one prison camp to another, the spiritual bond strengthened between husband and wife. That bond guided the couple through the darkest moments, when it seemed only a miracle could save them from certain death. The memoir, written in a refugee camp along the Thai-Cambodian border in 1980, is more than a survivor's tale of endurance, it is the story of dedication of a man and woman who witnessed mass murder but never doubted their faith would come to their rescue. The hand drawn illustrations are an excellent addition to the publication.
After 15 years of resettlement in the United States - where he became a leading advocate for refugees and an active local political leader, whose contributions have been recognized with numerous awards - Sam Sotha returned to Cambodia in 1995. Ever since, he has devoted his life to help reconciling his country to the past. As the Secretary General of the Cambodian Mine Action Authority, Sam Sotha's mission is to clear Cambodia of landmines. He also serves as an advisor to the prime minister, Hun Sen. The book is published by Thailand's Heaven Lake Press.