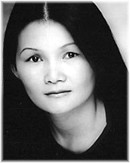 Greg Mellen, staff writer for the Press Telegram newspaper of Long Beach, California has just written a follow-up article on author & genocide survivor Oni Vitnadham and the current status of the charity organization she created, Progressive United Action Association Inc. You can read his update here and in the comments section. Mellen's original article on Oni Vitandham (left) and her inspiring story was published last June and can also be found in comments. Vitandham is the author of the book, On The Wings Of A White Horse, published last year - you can read my review below. Mellen has recently returned from a trip to Cambodia and has published a number of articles which are worth reading.

Surviving two worlds
On The Wings Of A White Horse - by Oni Vitandham
Wow, what an incredible story of survival Oni Vitandham has revealed in this absorbing biography. Told in a clear and easy to read style, Oni describes her miraculous journey through a childhood that would've consumed and defeated most of us, let alone a young girl who'd lost both parents and a succession of guardians. The recollections of her early life are graphic, powerful and vividly portrayed. She witnessed death and cruelty as a daily occurrence under the Khmer Rouge regime, travelling the length and breadth of Cambodia as well as wretched sorties into Laos and Vietnam before ending up in a Thai refugee camp. Beginning a new life in America didn't bring much respite from hardship as she struggled to adapt, ran away from foster homes, lived on the streets and suffered serious abuse. With help, she has turned her life around, become a proud mother and a strong advocate for change. The extent of her suffering - foretold in a prophecy - has set Oni on a mission to help her fellow countrymen, as the founder of an organisation that provides education for Cambodian children. Her courage and determination in the face of overwhelming odds are to be admired. I am sure her story will be an inspiration to many. Oni's
website
.