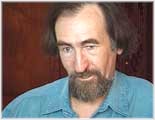 I had an unexpected visitor in the office today, namely freelance journalist Tom Fawthrop, who is a Chiang Mai resident these days but is still keenly involved in reporting on Cambodia and it's issues for the Guardian newspaper in the UK. We've corresponded on a few occasions in the past but never met face to face. London-born, Tom has extensively covered the developing world, working in South-East Asia for the past 25 years and is the co-author of the excellent book Getting Away With Genocide, the history and machinations behind the Cambodian Khmer Rouge Tribunal. He's also the director of Eureka Films and recently produced a documentary about the Cuban health sytem called Swimming Against the Tide.
A Guardian stringer in Manila in the mid-1980s, during the revolt against the Marcos dictatorship, he also covered the region for the Irish Times and various radio stations. His reports included a number of historic events: the People Power revolution that finally ousted President Marcos in 1986, the UN peacekeeping mission (1991-93) and the UNTAC election in Cambodia, the militia death squads run by the Indonesian military in East Timor, the referendum and another UN mission (1999-2001). His work has frequently appeared in the Economist, the Age (Melbourne), the Guardian, Sydney Morning Herald and the London Sunday Times. In 1989 he produced and directed a documentary for the Channel 4 Bandung series: Dreams & Nightmares - Cambodia Ten Years After Pol Pot. He also contributed to news features on Cambodia and Vietnam for SBS TV Australia, Dutch, Swedish and Spanish television.
For lunch I popped around the corner to try out the new Cafe Fresco on Street 51 and found it to be bright, buzzy, already very popular and very convenient. It's part of the FCC chain and is the second Cafe Fresco to open with a contemporary design, gourmet coffee and food and free delivery to homes and workplaces. Healthy juices, smoothies, fresh-baked pastries and build-your-own deli sandwiches are made in-house, alongwith a breakfast menu, opening at 7am til 7pm. If you want a change from Khmer fare, check it out.