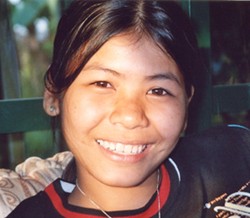 An unexpected visit from my god-daughter was my best Christmas gift (actually my only gift!). Since I've moved to live in Phnom Penh, I've only seen Vansy on a handful of occasions. And yesterday she arrived, unannounced, with her sister Malis, to wish me compliments of the season and to give me a keyring she'd bought. Since my last tourist visit in January, Vansy has moved from her family home in a small village in Kien Svay district to live with her sister in the rabbit-warrens of Phnom Penh. This is primarily to improve her schooling, which was quite limited in the countryside, but also to help her sister as well as to alleviate the number of mouths to feed at home. Since my return, I've been on a shopping trip with her, she's visited me at my office with her friends and on another occasion a few weeks ago, we took a tuk-tuk to visit her parents and siblings. That was a fun day out as we had a gorgeous feast at her family home and then went on a tour of her neighbourhood. She is a gorgeous kid, growing up very fast like all teenage girls, has a heart of gold and wants to make something of herself. Living in the capital is a different animal from living in the sticks and I have my worries like any concerned parent but she seems to be thriving in her new environment and I hope that continues.
After fielding a flood of sms messages yesterday - my Khmer friends may not celebrate Christmas but they sure weren't going to let me forget which day of the year it was! - I must've still been dog-tired after a week of feeling under the weather and fell sound asleep just after 8pm. Even a late flurry of messages failed to stir me until I awoke at 7.30am this morning. And I feel much better for it.

My pal Phanna is making headlines as he gets a quote in today's The Cambodia Daily newspaper in a story that describes the filling-in of one of Phnom Penh's largest lakes, Boeung Kak, is now underway. A pipeline is being built to pump sand from the Tonle Sap river into the lake, and the filling-in process is expected to take just over a year. However, the effect on residents and the numerous backpacker guesthouses and businesses that are located along the edge of the lake are as yet unknown. As usual, communication, participation and negotiation is noticeably
absent.
Here's the quote:
Chheang Phanna, 25, owner of Number 10 guesthouse, said he and other business owners around the lake are also worried by the lack of information from City Hall. "We do worry, but we have no choice. The government does what the government does," Chheang Phanna said. "It's better if the government lets us know what they plan to do , so we can know what to do," he said.
I know Phanna is concerned as to how events will unfold at the lake, he has a lot riding on the guesthouse, which is incredibly popular with the backpacker fraternity, but he's a savvy individual and I know he has a few irons in a few fires to ensure that he has options should the guesthouse business go belly-up.