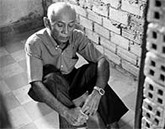 Chum Mey re-traces his time in a Tuol Sleng cell for a BBC documentary
Of the seven adults that escaped death at Tuol Sleng, the Khmer Rouge's interrogation and extermination centre in Phnom Penh, only three are still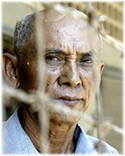 alive.
Chum Mey
is one of them. As the trial of the surviving Khmer Rouge leaders looms large, Chum Mey (pictured) could be called to bear witness to his own treatment and that of others at Tuol Sleng. He has already appeared in Rithy Panh's documentary about S-21 and been interviewed many times by the world's media, but the recollections cause him great distress on each occasion. He was one of the lucky survivors, like artist Vann Nath, because his skill as a mechanic was useful in repairing sewing machines and typewriters. A note at the end of his confession, penned by S-21's chief Comrade Duch, read, "Keep for a while." His wife and baby didn't survive, memories that still haunt him. Now 72, he's re-married and has six children and has been a vocal advocate of the forthcoming tribunal.
Nic Dunlop interviewed Chum Mey at length for his book about Duch, called The Lost Executioner. Chum Mey was also the subject of this article by The Age newspaper in Australia, dated January 2004:
Survivor rises to bear witness from the killing fields
.