If you thought Tomb Raider was the first big-budget movie to be made in Cambodia, think again. In 1963 the swashbuckling tale of Lord Jim was filmed in and around Angkor Wat and starred Peter O'Toole, James Mason, Eli Wallach and Daliah Lavi, as the token love interest. In its day, Lord Jim, adapted from the Joseph Conrad novel, cost a massive $10 million to make and filming took place in Hong Kong before the cast and crew moved to Angkor. In an interview for Time Magazine in January 1964, Peter O'Toole, who was hot box-office property after the runaway success of Lawrence of Arabia, was clearly not enamoured with his experiences in Southeast Asia. Here's some extracts from the interview:

Then the company moved on to Cambodia. For all the anti-Western ferment in the Southeast Asia country, producer-director Richard Brooks had managed to get permission to shoot location scenes in jungles and around the ancient temple ruins of Angkor Wat. To accommodate his large cast and crew, Brooks had to spend $600,000 to add a 47-room wing onto a little hotel near the location. "That hotel!" rages O'Toole. "More expensive than Claridge's! Ten flaming quid a night [$28] and a poxy room at that. Nicest thing you could say about the food was that it was grotesque." Soon everyone was set upon by dysentery, giant stinging insects and prickly heat rash that made clothing unbearable. Then came the snakes, which seemed to have a particular curiosity about show business. Walking down the middle of a jungle road, O'Toole came face to face with a huge black cobra. "They say no snake can travel faster than a scared human," he recalls, "but I ain't so sure. The snake went like hell, but luckily away from me." Another cobra slithered onto the set and dropped to the floor of the makeshift ladies' rest room. As screeching pandemonium broke out, a grip rushed to the rescue, killing the snake and stretching it out to its awesome seven-foot length. Then, an almost identical cobra appeared, eluded its chasers and presumably lurked in the shadows through the night's jittery shooting. One feminine member of the crew discovered two snakes curled up inside the commode - but did not linger to figure out what kind they were. Of particular dread was a snake called the 'two-step'. "It bites you, you take two steps," explains O'Toole, "and then you die. One day there was a nasty cop around and he had one curled around his foot. Flaming lovely discretion shown by the snake. It didn't bite the guy, so justice isn't total."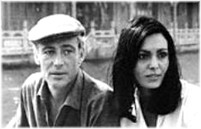 Peter O'Toole and Daliah Lavi in 1964
Almost as annoying as the snakes were the Cambodian officials, many of whom seemed to think the movie company had come just for the privilege of paying bribes. One day Crown Prince Sihanouk, Cambodia's pro-Peking ruler, showed up. "He started yelling the usual anti-British crud," says O'Toole. "I walked up to him and said, 'I couldn't agree with you more. I'm Irish meself.'" A mysterious Frenchman appeared on the location one day and darkly advised Brooks to get his company out of Cambodia by March 12. Unlike Caesar, who paid no heed to the soothsayer, Brooks for some reason believed the man. With O'Toole's concurrence, the work schedule was doubled and the daily shooting went on from noon until nearly dawn. The scheduled 12 weeks was thus cut to nine and the company left the country on March 3. One week later the US and British embassies were attacked by mobs (O'Toole is convinced that some of the trouble-makers had worked in the film as extras.) Prince Sihanouk took to the national radio to denounce the movie company as 'Western imperialist invaders.' "If I live to be a thousand," says O'Toole, "I want nothing like Cambodia again. It was a bloody nightmare. I really hated it there. How much so you can judge by the fact that after six months in the Orient I hadn't picked up a single word there, whereas after nine months in the desert on Lawrence I was speaking Arabic pretty well."