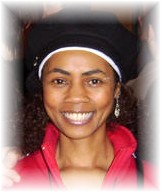 Birmingham's very own 'Reggae Princess', none other than the gorgeous Yaz Alexander, has just launched her own website with video clips, music samples, a biography (with much of the text written by yours truly) and contact details. There's also the opportunity to add much more as Yaz's profile increases. The web address is: yazalexander.com.

Much of Yaz's singing career to-date has been in support of reggae industry giants such as Pato Banton and Steel Pulse as a backing vocalist, both live and in the studio, but now the time is right for Yaz to strike out on her own. She has a beautiful voice, a dynamic stage persona and a passion for her music that knows no bounds. Now she needs the opportunity to present that package of personality, talent, ambition and energy to a much wider audience.

Yaz appeared at the Bob Marley One Love festival in Manchester last week in support of reggae artist Kwabena and will also be involved when Morgan Heritage take the stage in Birmingham on the 17th of this month. Yesterday, she appeared with her two backing singers, Emma B and Annie M, at The Stage in Birmingham city centre to showcase her excellent self-penned 'At Christmas' track which she has included on a compilation CD release by Gotham-Records called Christmas in July.