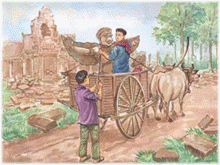 A looted stone Garuda, one of the magical stones
In my view,
Heritage Watch
have come up with a brilliant idea to educate young Cambodians on preserving their heritage. Not exactly a subject that springs readily to the minds of children, but wrap it into a storybook, illustrated by the Cambodian artist Nhek Sophaleap, and
If the Stones Could Speak
, should be a winner. It follows the adventures of a group of magical statues at the temples of Angkor. Over the centuries these statues face many challenges together, and eventually suffer the same fate - looting. But since this is a children's book, the story has a happy ending, and the statues are ultimately reunited at the National Museum.
Its hoped to encourage a lifelong respect for cultural heritage among Cambodia's next generation. The book stresses the religious importance of ancient sites, especially to Buddhism, which is practiced by 95% of Cambodians. Children's books have been a proven tool in the fight against the illicit wildlife trade, and Heritage Watch hopes this book will be equally successful in protecting cultural heritage. It will be distributed to disadvantaged children throughout Cambodia, but especially to those living in regions of the country where looting is heaviest.
To read more about Heritage Watch and their efforts to protect Cambodia's cultural heritage, as well as Touch Stone, their June newsletter which contained the story of the magical statues, go to: heritagewatch.org.