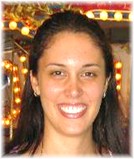 Documentary film-maker Tiara Delgado is a woman on a mission. Born in Oregon, she moved to Los Angeles to take up acting and modeling but instead switched her focus onto humanitarian work and film-making and is currently producing her fourth documentary on Cambodia and its many issues. She's recently finished The Road to Closure - Understanding the Khmer Rouge Tribunal, and has just completed a series of preview screenings of her thirty-minute documentary in the US, at the same time as the trial of the former Khmer Rouge leaders begins to take shape. In 2002 she also set up Global Vision Video which provides production services to educators, activists and non-profit groups seeking to promote their causes on film and video.

Delgado (pictured) used her own money to finance her first documentary called Fragile Hopes from the Killing Fields, which she completed in 2003 and which explored the stories behind four survivors and their families, and was narrated by actress Susan Sarandon. Compassion and Controversy was a film about the issues surrounding the adoption of Cambodian orphans, whilst The Road to Closure brings into focus the desire for justice some thirty years after the nightmare in Cambodia began. Still in production is Bitter Mekong - The Sambath Legacy, in which Rami Sambath traces the story of his father who was executed at Tuol Sleng.

To find out more about Tiara Delgado's important work, go to Global Vision.