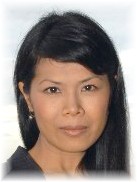 Theary Seng, author of the Khmer Rouge survivor memoir, Daughter of the Killing Fields : Asrei's Story, now living back in Cambodia as a US-qualified lawyer and executive director of the Center for Social Development in Phnom Penh, and a keen advocate for the pending tribunal to bring to account the surving members of the Khmer Rouge hierachy, has posted her new website at thearyseng.com.
A 25-minute video interview with Ms Seng (pictured) can be seen on the BBC's HARDtalk news programme website here, where she describes her life under the KR and the heart-wrenching loss of both of her parents.


* * * * *
The Khmer Rouge Tribunal is mentioned in nearly every news story coming out of Cambodia in the last few weeks. The judges were sworn in recently and now the case is being put together to decide who the Tribunal will actually put on trial (aside from Ta Mok who died a few days ago, and Comrade Duch, who's already in custody), with proceedings expected to begin sometime in 2007. Personally, I don't feel that trying just a handful of the very top former KR leaders from the Central Committee is enough. I think it should be extended to at least another tier of leadership, if not two, including Zone and Military Commanders where there is evidence of their wrong-doing.
To read an interesting and factual introduction to the Tribunal, go to the DC-Cam website here.