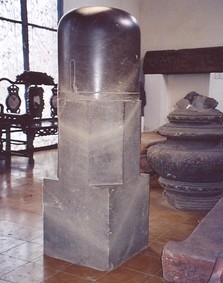 If anyone finds themselves heading towards Battambang, Cambodia's sleepy second city, then I recommend you visit the city's 2 museums, the Provincial Museum on the banks of the Sangker River and the less-accessible Wat Po Veal Museum in the grounds of the pagoda of the same name. I visited both in January 2006 and they certainly have exhibits that are worth checking out. The main Provincial Museum has the best items as you might expect and is now open daily, whilst at Wat Po Veal you need to find the monk, Roeury Rien, who is the keyholder. If he's not about, you probably won't get in. Inside you'll find a series of lintels, some of them upside down, and other carvings amongst the dust and cobwebs - the highlight for me being a sandstone stele with a Sanskrit inscription and carvings in high relief of Brahma, Vishnu and Shiva.

At the main Museum, I was given a guided tour by the Province's director of culture and fine arts, Tub Tan Leang, who described each item in the collection with great pride adding anecdotes about where and when it was found. Most of the lintels on show were removed from the temples surrounding the city and brought to the museum for safekeeping, including a number of items from Banteay Chhmar. Other objects have found their way via a different route, with one large head having been dug up from the museum's garden only a few days earlier! Some of the items on show compare favourably with those at the National Museum in Phnom Penh, including this excellent example of a sandstone linga. In Cambodia, the Hindu god Shiva was represented in the form of an erect phallus and are mostly found in a uniform style; the square base representing Brahma, the octagonal middle section is Vishnu and the cylindrical upper part with a rounded, polished tip, Shiva. The linga would be inserted into a square pedestal, one side of which would have a hollow channel, symbolising a yoni, the vulva-shaped female emblem of power.

I have just posted twenty-six photos taken at the two museums, which you can find here. Next time you are in Battambang, check out its' museums.