The telephone rang tonight...the call came from a ticketing agency to tell me that the Ennio Morricone concert I was due to attend in London tomorrow night, had been cancelled due to unforseen technical difficulties. Bugger...I'd been looking forward to the concert for months. Morricone's visits to this country are extremely rare and as he gets older, will get even rarer. Thankfully the concert, at the Hammersmith Apollo, and which had been a complete sell-out, has been rescheduled for 1 December, so tickets will remain valid. Fingers crossed for later in the year...

I got home past 4am this morning after attending a very late-night reggae concert in Birmingham city centre, starring the so-called royal family of reggae, Morgan Heritage. They didn't come on stage until 12.45am and whilst the atmosphere and vibe was good, the band were well-received and they played a good mix of new material from their latest album, Full Circle, as well as some of their older tunes, I wasn't overly impressed. The band is anchored by 5 of the 29 children sired by reggae veteran Denroy Morgan, though the female member, Una, was absent, looking after her three small children. I'd seen the band before at the Reggae Sundance festival in Holland in August 2003 and as a concert, their Birmingham appearance was - okay.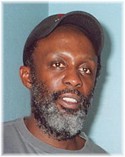 In the audience, I was surprised to see Selwyn Brown and his wife Millie. Selwyn (pictured) told me he'd just returned that day from an eight-date tour of Europe with Steel Pulse, which had followed hard on the heels of a 32-date tour of the United States. After a few days of R&R, he'll be back off to the States for another eight gigs, festivals in Jamaica and Canada before a brief return to Europe for another half dozen festival appearances. Selwyn, and Steel Pulse, just never seem to stop. Also enjoying the concert vibe was Reggae Princess Yaz Alexander.