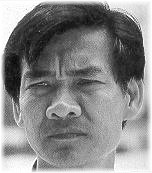 2006 marks the tenth anniversary of the death of Haing S Ngor, surgeon, survivor, actor, humanitarian and activist, who died on 25 Februuary 1996. The Chicago Tribune said of Haing S Ngor; "He starred in the best film on Cambodia that has ever been produced. And now he has written the best book on Cambodia that has ever been published." And I have to agree with that view entirely. The film in which he starred and won an Oscar, The Killing Fields, was a watershed in bringing the true fate of the Khmer people to worldwide audiences that no tv news-slot or documentary ever could. And his book, which he co-wrote with Roger Warner, A Cambodian Odyssey, was an incredibly moving account of his life and survival under the Khmer Rouge regime. His murder, at the hands of a street gang, robbed us all of a very special Cambodian.

You can read all about Haing S Ngor at the website of the Foundation set up in his name, haingngorfoundation.org.
Visit my Killing Fields webpage for more on the film of the same name.