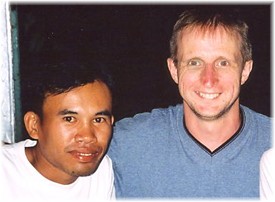 I first hooked-up with Rieng as my guide for the temples of Angkor in December 2000. I owe Christine Dimmock, a pal from Australia who recommended him to me, a debt of gratitude as since that first meet, we've become best buddies and enjoyed a variety of temple-hunting adventures around Siem Reap province. He certainly knows his stuff whether its the main temples in the majestic Angkor complex or more remote and less-visited sites such as the temple ruins on top of Phnom Kulen and other locations well away from the usual tourist routes. We've had some great trips out into the countryside and with Cambodia's seemingly inexhaustible supply of ancient temple sites, I'm looking forward to many more in his company.

Now thirty years old, Rieng is a qualified Angkor guide, moto-driver, full-time policeman and father of two. His employers, and wife (Sovann), are very understanding when he has tourists to guide - he's very resourceful, enthusiastic and trustworthy, has a really infectious laugh and a permanent smile, coupled with an excellent grasp of English. He can ferry you around on his moto or can be your guide and arrange for an air-conditioned car or 4WD to make your visit to Angkor more comfortable. His father-in-law, Heng usually takes the wheel and is an expert driver. In the last few years I've got to know Rieng and his family very well and one of the reasons I return to Cambodia each year is to renew friendships, such as the one I have with Rieng. I recommend Rieng as a guide without any hesitation.

You can contact Rieng via e-mail at: kimrieng@yahoo.com or telephone him on: (855) 012 920 554. In the photo above, Rieng is on the left and I'm on the right.