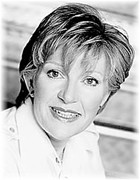 Make a note in your diaries... the 2 episodes of Casualty filmed in Cambodia last month will launch the next series of the popular BBC tv drama over one week-end of 23 & 24 September. The filming went extremely well and the episodes will be part of the celebrations for the drama's 20th anniversary.

Cathy Shipton (pictured), who plays Duffy in the series, has now recovered from a nasty bug she brought back with her and has told me how well the trip went for her and the crew - "fantastic and a life-enhancing experience" was how she described it. As so many visitors to Cambodia find, it can really grab hold of you and that applies to one member of the crew, who's already returned there for a holiday. Cathy herself, took time out from filming to visit the Sunrise Children's Village orphanage in Phnom Penh as well as one of the schools near Siem Reap that are supported by the British-based Schools for Children of Cambodia charity.

To read more about the Schools for Children of Cambodia, go to: sccambodia.org.