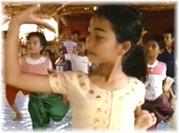 Waiting For Cambodia is the second of six documentary films I've been sent by DER Films, to celebrate their release on dvd for public consumption. DER produce a diverse range of educational films and filmmaker David A Feingold's focus on Southeast Asia and particularly Cambodia has produced a rich vein of documentary features.
Produced in 1988, Waiting For Cambodia exposes the dilemma facing more than a quarter of a million Cambodians who fled the Vietnamese invasion and ouster of the Khmer Rouge for the refugee camps on the Thai-Cambodian border. It examines the diplomatic and political stalemate that kept the refugee camps full for so long, as the Khmers themselves struggled to preserve their endangered cultural heritage. Cambodian classical dance, an ancient tradition very nearly wiped out by the Khmer Rouge, was kept alive by surviving teachers like Van Savay and Nhea Srey Mom in border camps like Site 2. Effectively the second largest Cambodian city with a population of 140,000, Site 2 was just one of the numerous border camps controlled by the various factions of the coalition forces. Site 8 for example was run by the Khmer Rouge, the largest of the factions, and for much of the time the camp remained closed to prying eyes.
Looking into the human cost of the geopolitical impasse that left Cambodian refugees stranded on the Thai border for a dozen years, interviews and soundbytes from various parties included Father Pierre Ceyrac, Congressman Stephen Solarz, who admitted it was "immoral to confer recognition on a gang of mass murderers like the Khmer Rouge," and factional leaders like Son Sann and Norodom Ranariddh. These gave an insight into the period though overwhelmingly the desire from all was to see the Vietnamese leave Cambodia and let Cambodians decide their own destiny, even with the spectre of a return to power by the Khmer Rouge a distinct possibility. The documentary didn't provide any answers to the issues it raised but it did act as a precursor for the political machinations taking place at that time which resulted in the Paris Peace Agreements of the early '90s.
The dvd is an hour long with David A Feingold producing and Shari Robertson directing. Robertson grew up in Texas and New Mexico where she trained in anthropology and ethnographic film. She began her career in the rainforests of Papua New Guinea and followed that with features on Khmer Rouge guerrillas (Inside the Khmer Rouge), Indian archaeologists fighting to restore the ancient temple of Angkor Wat (Temple Under Siege) and explored the tragi-comic crossroads of domestic politics and the American drug war in Peru (We Ain't Winnin'). You can see a clip from the dvd, and purchase it here.