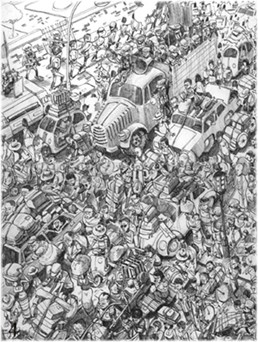 Above is one of Bun Heang Ung's indelible images, recalling the arrival of the Khmer Rouge troops in Phnom Penh on 17 April 1975 and the subsequent evacuation of the city (reproduced with kind permission).
Thirty-two years ago today, Phnom Penh, the war-torn capital of Cambodia, was captured by the Khmer Rouge guerrillas to signal the start of a period of unequalled brutality and terror that resulted in the deaths of an estimated 1.7 million people from execution, starvation, disease and overwork. The cartoonist and animator Bun Heang Ung included many of his own drawings in his book, The Murderous Revolution - his real-life struggle to survive the Khmer Rouge regime - and these are a vivid testimony of those tragic times. Bun collaborated with Martin Stuart-Fox to produce the book, which was first published in 1985.
His own website, Sacrava Toons, displays a wealth of his work. Click on the archived month -
March 2005
- to see a number of his impressive drawings from The Murderous Revolution. Also view my own webpage on Bun Heang Ung
here
.
Var Hong Ashe was born in Cambodia where she worked as an English teacher. She has lived in England since 1979, and is the author of From Phnom Penh to Paradise (Hodder & Stoughton, 1988). Here, she recalls what took place in Phnom Penh 32 years ago today:
On 17 April 1975, we applauded the parade of victorious Khmer Rouge soldiers in the streets of Phnom Penh. Everyone was so happy just thinking it was the end of the civil war, which had lasted for five years and had already created so much suffering. We could not have imagined what was to come.
A few hours later, our misery started. The Khmer Rouge ordered us to leave the city "for three hours only" and to carry nothing with us so that they could search the place for republican soldiers who had gone into hiding. This order applied to all towns and cities, small or large, throughout the country. Of course, people did what they were ordered to do.
I left my house with my mother (who was going blind for lack of essential care after an eye operation), my two daughters, three sisters and two brothers. My father and my husband were not with us, and I was to learn their fates only later. My father, a colonel and head of a regiment of 2,000 soldiers was at the frontline; the Khmer Rouge killed him along with his brother officers when they surrendered. My husband was in Paris during this period; the Khmer Rouge tricked him into returning to Cambodia, and killed him on his arrival.
Five hours passed, one day, two days, three days…. We realised by now that this was a trip without return. The Khmer Rouge fired machine-gun rounds in the air to force us to advance under the intense heat of the scorching sun (April is the hottest month of the year in Cambodia). The children cried of thirst and hunger; the elderly were exhausted; pregnant women gave birth on the roadside; young people broke into houses along the road – empty since their owners had been evacuated ahead of us – to seek food.
We saw unbearable scenes: the decaying corpses of those who had dared question the orders to leave or refused to satisfy the whims of the Khmer Rouge; old people who pleaded not to be left behind; children wailing, having lost their parents; the wounded who had been waiting for an operation and who were forced to leave the hospitals, hardly able to hold themselves upright, with their wounds still open. It was extremely painful and alarming.
Everyone was in a pitiful physical state and an utterly powerless state of mind. Nobody could come to the assistance of others. We were faced with a hopeless situation.
The Khmer Rouge, I understood later, intended to eliminate the rich, the intellectuals, and anyone educated – like doctors, engineers and professors, the majority of whom tended to live in the city. For the Khmer Rouge these people were part of a dictatorial and corrupt regime that exploited the poor, and they sought to destroy everything they thought belonged to this world: buildings, luxury cars, villas, refrigerators.
Copyright © Var Hong Ashe, Published by openDemocracy Ltd.