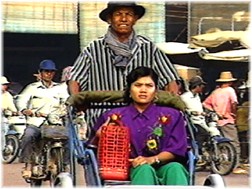 K'Sai Chivit: Threads of Life is just one of six documentary films on dvd I received in the post today, kindly sent to me by DER Films after my blog entry about a batch of their recent film releases. DER is a non-profit organization founded for the purpose of producing and distributing cross-cultural documentary films for educational use. They produce a diverse range of films and they've just released for public consumption half a dozen documentaries that focus specifically on Cambodia and that were produced by the filmmaker David A Feingold.

Filmed in 1994, K'Sai Chivit: Threads of Life is a twenty-minute film that documents the revival of the traditional art of silk weaving and follows the fortunes of Um Lao (pictured above in the cyclo), who leaves her village in Takeo to train under the master weaver Leu Saem in Phnom Penh, courtesy of a training program set up by UNESCO. We see her at work on her wooden loom, selling her handiwork to a shop-owner near the Central Market and then return to her village where her new found skill will give her a greater opportunity for economic independence and increased confidence and self-esteem amongst her peers. She is also keen to pass on her knowledge to fellow villagers in order to preserve this ancient artform. And just as importantly, it allows Um Lao and her family to pay their respects to her deceased parents, an important part of Khmer and Buddhist life. You can see a clip from the dvd, and purchase it here.



Filmmaker David A Feingold is an anthropologist and award-winning documentary film director. His films include Terror in the Minefields for PBS, Inside the Khmer Rouge for BBC's Assignment, Washington/Peru: We Ain't Winning for Channel Four and PBS and Angkor: Temple Under Siege for National Geographic. He has investigated political, cultural and social issues in Southeast Asia for over three decades. Currently, he's investigating the trade in minority girls and women from Burma, Yunnan and Laos to Thailand. He's previously served as International Coordinator on HIV/AIDS and Trafficking for UNESCO and been a consultant to the Select Committee on Narcotics of the US Congress and United Nations. As co-founder of Ophidian Films, he's brought important issues in the contemporary world to a broad international audience. He's produced fifteen documentary features in Southeast Asia in the last decade with subjects ranging from exclusive portraits of Khmer Rouge guerrillas, the tragic impact of landmines and the fight for cultural survival in a classical dance school on the Thai-Cambodian border. I will review each of his half dozen DER documentaries over the next few days.