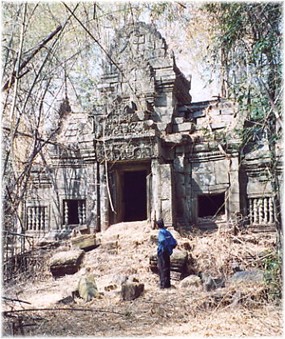 If you read any of my Cambodia Tales, you will know that I love to get out into the Cambodian countryside and discover for myself, some of the hundreds of ancient Angkorean temple sites that are dotted all over the landscape of that beautiful country. My latest visit, in January, was no exception and one such trip was my adventure with my trusty sidekick Sokhom, into the unexplored territory of Preah Vihear province, in the northern half of Cambodia. Now we weren't aiming for the obvious sites like Preah Vihear itself, Preah Khan of Kompong Svay or Koh Ker, but for an area where I believed there would be some temples to uncover, although information on the area was sketchy to say the least. As it turned out, Sokhom and I had a superb adventure, we found some great temples, met a bunch of wonderful people and will never forget this particular trip.

Certainly our best temple find was the one shown above, at Prasat Chean Sram, some two kilometres outside the village of Prey Veng, some 3o kms northwest of the Koh Ker complex. Travel in that part of the province is only by moto, ox-cart or occasionally by 4WD in the dry season. We went by moto and it was a tough ride but well worth the effort. The temple itself was a real gem, demined only a year before and still housing numerous beautifully-carved lintels on both its two entrance gates and on its five brick towers. Its a large site, surrounded by thick bamboo and with a lot of undergrowth to battle against. The photo above shows Sokhom admiring the imposing East Gopura, with its delicate sandstone carvings. Our guide from the village was Tel, a 40 year old former Khmer Rouge fighter, who told us all about his decade with the guerilla group over our chicken and rice lunch next to the large baray nearby. Then we moved onto the village of Yeang, where we stayed overnight with a wonderful family, who like most of the 77 families in the village, were formerly in the ranks of the Khmer Rouge. Phearng and his wife Sinoun were superb hosts and the next day we went out to find two more temple sites, Prasat Dap and Prasat Bei with Phearng and his pal, Norn.

Temple-hunting in this part of the country is very tough and uncomfortable, certainly not everyone's idea of fun, but for me the rewards are enormous. Not only do I get to see temple sites not seen by western eyes for many decades but I get to spend time with some of the most welcoming and down to earth people you'd ever wish to meet. For me, this is exploring Cambodia at its finest.

Here's a quick link to my Cambodia Tales.