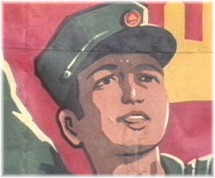 Return to Year Zero, produced in 1989, is the third of six David A Feingold documentary films I've been sent by DER Films, to celebrate their release on dvd for public consumption. Producer Feingold and director Shari Robertson formed a documentary partnership that focused on key issues in Cambodia and Southeast Asia, and this 42-minute film highlights the dilemma being faced by the Cambodian people in 1989 as the occupying Vietnamese troops withdraw leaving the real possibility of a return to power by the murderous Khmer Rouge, in a potential regression back to Year Zero.
We see life in several of the Thai-Cambodian border refugee camps including Site 8, Borai, Sok Sann and Ta Luan, where the coalition forces, of which the Khmer Rouge outnumber the other parties by a considerable margin, are waiting for the Vietnamese withdrawal before taking on the PRK, either by force or by the ballot-box. The PRK, officially recognised by just Vietnam and the Soviet bloc, will be ripe for the picking by the battle-hardened Khmer Rouge army and we hear interviews with citizens and defectors that don't bode well for the future. The camera team visit Battambang, Pursat, Kompong Speu and Kampot, interview a senior KR administrator, prime minister Hun Sen, royal dance teacher Chea Samy and others as they make it clear that "this time the world cannot claim it doesn't know the danger" posed by the Khmer Rouge.

You can see a clip from the dvd, and purchase it at the DER website
here
.