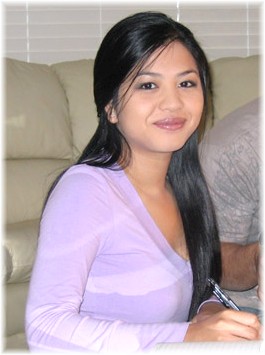 Watch out for the talented young actress, Sarina Luy, who has the lead role in the forthcoming directorial debut by Khmer Director Tim Pek in The Red Sense, a film which he hopes will motivate modern Cambodians to forget the past, and focus on the future.
Filmed in Australia, The Red Sense features a Khmer cast, all of whom have their own connection to the Khmer Rouge Genocide. Sarina, who plays the role of Kong Jan Melear, the young woman who discovers her father's murderer in Australia, says "My parents always talk to me about all the difficulties that they went through during that time." She arrived in Australia in 1995 from New Zealand, after having left a refugee camp in Thailand, in 1991. Each member of the crew had a different reason for wanting to do the film, and for feeling the film was important. "I think the Khmer Rouge time is a powerful memory in the hearts of older people, and they will never forget and forgive." She says. "I really think this film is very important for overseas Khmers, especially all the teenagers should know about the history and the difficulties that our poor people have gone through." Sarina also co-wrote the theme song for the film, Svaeng Ruk Pup Tmei.
The film is expected to be completed shortly and to be screened in both Australia and Cambodia, with a worldwide dvd release. Find out more about the film at their website.
[part text copyright of Antonio Graceffo].