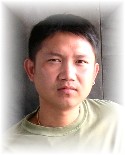 praCh is a phenomenon. I don't think anyone can argue with that, especially as the Cambodian-American rapper seems set on a course that will ensure he is known to just about every Cambodian across the globe by the time he reaches his next birthday, his 28th. He is a visionary and a leader - he's already CEO of his own company, Mujestic Records - and last year was chosen as the Grand Marshall for the Khmer New Year celebrations in Long Beach, an honour he's rightly proud of. Born near Battambang in 1979, he now lives in California and whilst his appeal is rapidly becoming universal, the road he's taken hasn't been an easy one, as he explains:
"There is no path or blueprint for me. I just went along with my feelings, what is the right thing for me to do. I was raised here in the States like the other millions but as a kid my playground was like none of them. The Ghetto has no remorse. One slip and you're six feet under. Along the way I found music as a way to express myself and address my stories. Even though I grew up here I was born in Cambodia and what other story to tell but my own. Like I said before there was no path just instinct. Survival instinct learnt while growing up is what got me here today. Everything else that came along with it is pride, blood, sweat, and tears."

I asked praCh about his career, now and in the future:
"I dont really call it a career, more like a hobby. But then again I haven't had a 9-5 job since 2001. But what I inherit is beyond my expectation. I now feel the weight of it weighing down on me. Every word that I say, every word that I write, every time I perform, every album that I put out. There is someone out there putting my work under a microscope. But at this stage I am happy with what I have accomplished. I work so hard not just for myself but for my community and last year they crowned me Grand Marshall of the Cambodian New Year Parade. I am CEO of Mujestic Records which I formed in 2000 and I have 2 gifted groups, 4 talented producers under my umbrella. Now I am branching out to films and many other ventures. So its safe to say that my plate is full. On top off everything else, I am happily married to my best friend. What can I say, I'm just lucky. And of course I want to take it to the extreme with our work - to see our names is the limelight and our company in the multi million dollar bracket. All in due time, but for now I am happy with the outcome." [see the Mujestic website for details on praCh and his projects].

Can you tell me what projects you're currently involved in:
"1. My final Dalama album. Title is 'Dalama...memoirs of the invisible war.'
2. The Bassac Project. Me, Thy and Silong went to Cambodia with the help of Charley and Alec of Cambodian Living Arts. We filmed and recorded music with the Masters and their students. it will be out soon.
3. Sin Sisamuth movie. Sin Sisamuth is considered by 99.9% of Cambodians to be the greatest Cambodian singer to have ever lived. He didn't just sing, he composed and wrote all his songs. He died during the Khmer Rouge revolution. There are many stories on how he died but with 5 years of research and countless interviews I think we have the closest thing to the truth. Many film companies and productions want to do the film but his family never give them the rights to it. In 2004 the Sin Sisamuth Association was formed and I became a member at the request of his family and friends. On board is his wife and only son, and some of his surviving band members. Executive director is Mr. Bunly Chhun. See their website.
4. The film ' Out of the Poison Tree.' We just wrapped that up. I'm very proud of it. I did the music for the film. See their website.
5. Still in the works is the script for a film called 'Power, Territory and Rice.' It is written by Sojean Peou for Apsara Film Group and the title was inspired by one of my songs from the 'Dalama...the lost chapter' album.
6. I'm currently penning a book, to be published by Manoa and University of Hawaii Press. The title is W.M.D. (Words of Mass Distruction).
7. Producing the 3rd album for 'Universal Speakers,' and maybe a 2nd for 'The 2nd Language' . Also a couple other yet to be named groups."

I asked praCh how important he feels it is to embrace his Khmer heritage:
"'I'm proud to say I am a Khmer with pride, because I praCh refuse to let my culture die' - from the song 'art of faCt', written by yours truly. We have an idenity crisis and there a huge generation gap between the adults and kids. Me growing up I had no one to look up to. No role models. Just my parents. I couldn't relate to any I see on tv or radio so i wander off into their world. Now that I know more about myself I am showing pride in that. The people who listen to me or just support me in general can relate to what I am saying. Now I have responsibilty because kids are looking up to me and mimicking my work. I'm not saying I am a role model but these kids seem to think so. At the end of the day I just make the type of music I would like to hear and the things I would like to see. I'm not parenting or lecturing people because that's not my job. I am a Cambodian American and America is built on a rainbow of cultures. I am showing my true colors. There's more to Cambodia than just the Killing Fields and people need to know that. The kids need to know about their history and culture. Once they learn more they will fall in love with it. So therefore I use my work to invite them in. And it is important for me to be in touch with my homeland. I have to practice what I preach. After all that is my birthplace, how can I forget."

Do you have plans to return to Cambodia?
"As for the moment I haven't made any plans yet. I've been there a couple times and love every minute of it. It hurt me to see the corruption in the government but the pride of the people give me hope. I want to finish my Dalama album and the Bassac Project before I make such a plan. But trust me, in the words of our California Governor, 'I will be back'."

In an interview with Sharon May, praCh explained the meaning behind his name. "The meaning of praCh is 'advisor to the king' or 'person who talks a lot.' But my parents didn't name me praCh because of that. The area where I was born was called Veal Srae K'prach: farmland of K'prach. I'm from a big family. I have three brothers and four sisters - four girls, four boys - and I'm the seventh child. They didn't know what to name me when I was born at the refugee camp, so they just named me praCh."

He's currently adding the finishing touches to his Dalama trilogy with a third solo album. His first, 'Dalama...the end'n is just the beginnin' came out in 2000, was bootlegged in his homeland and became a bestseller; his second release, 'Dalama...the lost chapter,' was released in 2003 and sold over 100,000 copies in the US. He's also written music for a number of films and documentaries and had his lyrics published by Manoa in the book, In The Shadow of Angkor. He's a workaholic, successful at everything he touches and he's providing the Khmer diaspora with an alternate voice for now and in the future.