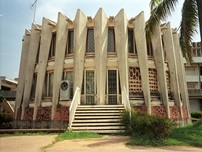 A non-profit organization with a different slant on looking at Phnom Penh is Khmer Architecture Tours, who promote and arrange tours of Post-Independence buildings in the Cambodian capital, such as those built by architect and urban planner Vann Molyvann. The modern architecture of Cambodia really took off in the late 1950s and 1960s with an explosion of what has been dubbed 'New Khmer Architecture,' integrating an international flavour alongside traditional form and materials in a unique style. KA Tours have even put out the first walking tour map of the capital's buildings, which you can download here for free. To see some of the architecture from the 1960s, click here. The photo is of the library building at Phnom Penh University (courtesy of John Caserta).


* * * * *
A man who dedicated a large part of his life to working in the
Khmer refugee camps
on the Thai-Cambodian border has posted a
websit
e
containing a huge amount of information about the individual camp sites and the story behind the refugee camps. Richard Rowat has dedicated

his website to the hundreds of thousands of Khmer who found the camps haven and hell and to the thousands of expats who worked in the border camps over the years. A book that I have, called Beyond The Killing Fields with photos by
Kari Rene Hall
(pictured), tells the story in pictures and words of one of those camps, Site 2, at one time home to over 200,000 Cambodians and the largest concentration of Khmers outside the capital, Phnom Penh. If you can get hold of a copy of the book, its well worth having as Hall's black and white photos are superb.