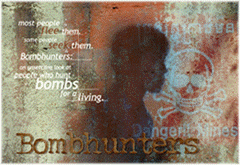 Independent film producer Skye Fitzgerald's film, Bombhunters, explores the long-term consequences of war and genocide in Cambodia that persist in the form of landmines, unexploded ordnance (UXO), and other munitions. In particular, his film examines the social, cultural, and historical context and experiences of rural villagers who risk their lives to seek out and dismantle UXO to sell the scrap metal for profit.

Fitzgerald did much of his filming in Kompong Thom province and includes in his 85-minute film people like Khmer activist Ronnie Yimsut alongwith Aki Ra, a popular former soldier who lives in Siem Reap and has his own landmine museum; Yun Te, whose wife nearly bursts from anxiety, worrying aloud how their two baby girls can survive if her husband loses his arms, his legs, or his life; Salot Vuthee, whose husband lost all of those one unlucky afternoon; and Pon Lok, a handless 13-year-old whose face, neck, and chest are pocked with open and angry shrapnel wounds. Ronnie Yimsut summed up the film thus: "Skye and his film crew, in my eyes at least, are champions for those little people who lack voice. It took courage, but more importantly, it took a strong passion to make this kind of film to educate the public."

Bombhunters is currently showing at film festivals across the United States and earning rave reviews, whilst Fitzgerald is hopeful it will receive wider global distribution. Read more about the film, here.