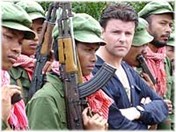 In 1993 ex-soldier and landmine specialist Chris Moon was working with HALO Trust in Cambodia and was kidnapped by the Khmer Rouge whilst de-mining in a remote area. The story of his kidnap, survival and eventual release is told in a new Channel 4 documentary, Kidnapped in the Killing Fields, which will be shown on British television on 10 September 2006 at 8pm as part of the Alive series. Actors will re-enact the scenes (pictured above), which bear a remarkable similarity to the abduction of de-miner Christopher Howes just three years later. Unfortunately for Howes, the result was not the same.

In the case of Chris Moon, he went onto work with HALO in Mozambique, but while on duty he was blown up by a mine and lost his lower right leg and right arm. Since that time, Moon has inspired many with his incredible determination to overcome his disability - he completed the London Marathon less than a year after leaving hospital - and has worked tirelessly for the British charity, The Cambodia Trust. In fact, Moon is taking part in a sponsored bike ride beginning on 31 August when he will cycle across Cambodia on a specially adapted bicycle to raise funds for the charity. You can find out more here.

The Cambodia Trust is a charity that I've personally supported in the past and who've done amazing work in Cambodia and beyond. Meanwhile, to find out more about Chris Moon, go to his own website at www.chrismoon.co.uk.