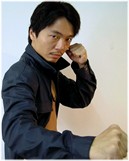 The independently-made feature film, Last Seen At Angkor is currently showing at theatres and festivals in the United States. It was shot on a shoestring budget, using mostly local actors, in Cambodia, Thailand and Laos. Written and directed by Michael R Morris, who also takes the lead role, it also co-starred Singaporean actor Wee Hong Thomas Lim (pictured). I asked Thomas for his recollections of Cambodia and the film:
"Regarding Cambodia, shooting 'Angkor' was my second visit there. My first was in Jan 2002 which I enjoyed a lot more. That's not because the filming experience or Michael's company wasn't great but more so due to how fast Cambodia is changing. In 2002, there wasn't 'tuk-tuks' in Cambodia, just motor-bike taxis. Then they attached a carriage to the back and called it a tuk-tuk. I had a local friend in Cambodia in 2002, an elderly man whom me and Mike call 'Uncle Milo' and we had problems locating the travel agency that he owns not because he's moved but rather, the city/town changed too much in outlook. Phnom Penh too, the S21 Genocide Museum was so creepy the first time I visited but during that recent second visit, it did feel it became a lot more commercial. But still, if a friend comes to SE Asia, I'll still say he'll have to go to Cambodia for the great architecture and of course, come to Singapore! I feel sorry that Mike came all the way from LA and didn't really find time to properly visit the temples (we were more concerned about filming) but I believe he had a good time anyway.

I met Michael 4 or 5 years ago at the ShaoLin Temples in China. We're both kung fu enthusiasts (thats why we found ourselves there at Shaolin I guess) and as fate had it, we ended up travelling together, from the day we met, for almost 3 weeks, going through some good and bad experiences on the road together and had ourselves a good solid friendship before we parted in Beijing. And that same winter, I visited him and his family in Los Angeles. We kept in close touch ever since and decided to make 'Last Seen At Angkor' together. Regarding 'Last Seen At Angkor', I learnt so much from Michael shooting the film that I decided to put that knowledge to use by shooting my own short film called 'Kung-fu Doll' last summer in Tibet. This short film is also almost ready. Michael to me, is like a long distance big brother who always has valuable advice regarding not just films, but life in general too. In fact I'm putting up a solo theatre performance to tell of 3 amazing experiences/people I've had on my travels these past years and one of those experiences will be on my friendship with Michael.

Regarding myself, I'm from Singapore, residing in Beijing (China) since 3 years ago to train in Chinese Kung Fu. I'm an actor who's been doing theatre for 7 years and more recently, films. I just recently finished a Hallmark feature called 'Marco Polo' and will be backpacking through Mongolia for 2 weeks starting next week before heading south to Hong Kong to rehearse for my new theatre play which will be staged in October in Hong Kong. Then in December, I'll be staging the solo theatre performance in Macau (South China)."

You can read more about Thomas' work and travels here. And here's my original blog-post on Last Seen At Angkor.