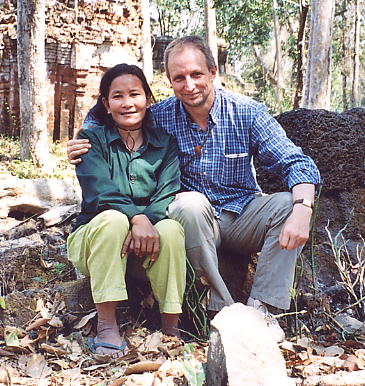 On 12 June 2006 I posted a blog entry entitled Toun Sokheng - a priceless gem, about a woman I met in a small village in the wilds of northern Cambodia in January 2006. I thought she was such good company that my pal Sokhom and I returned to her village, Kalapia, a month ago, during my most recent Cambodia trip. And there she was, as friendly, generous, honest, amusing and as gracious a host as before. Some things in Cambodia never change, one of them being the generosity of spirit of her people.

Sokheng's first words were "where are my photographs," shaming me into admitting I'd forgotten to bring the copies I'd promised her. She quickly forgave me with a smile and invited us into her home to rest before we traipsed across barren rice fields to pay a return visit to 'her' temple, Prasat Khna. In the intervening year, she'd been busy clearing more of the undergrowth to make a visit to the temple easier for souls like myself, but had still not received any payment for her hard work. We sat on the temple wall and talked about her day to day life, the death of her husband during an outbreak of civil war in 1996, her family of two daughters and one son, my life and family and anything else we could think of, before walking back to her house where we shared our chicken, rice and warm sardines between the three of us. Originally from Svay Rieng province near the border with Vietnam, she's been asked by her village to become a commune representative at the next election but because she can't read or write, she doesn't feel she can do it. In my view, she'd make an excellent spokeswoman, her fellow villagers respect her, she's a strong-willed and very capable woman, she's not afraid of hard work or speaking her mind and she has a real spirit that I admire. We parted best of friends, and I promised to deliver two sets of photos on my next visit.
If you ever take the back road from Tbeng Meanchey to Choam Khsan (or vice versa), then make sure you stop at the village of Kalapia to see Sokheng and her 10th century temple of Prasat Khna. Both are well worth the effort. This is a slice of Cambodia in all its glory.