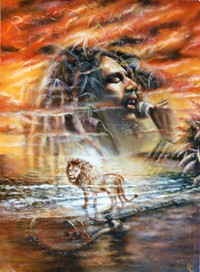 The Drum, just ten minutes outside Birmingham city centre, is the UK's premier arts venue dedicated to African, Asian and Caribbean arts and cultural activities. There are two forthcoming events that I really want to see, involving two musical friends of mine. On Tuesday 17 April at 7pm, Who Shot the Sheriff, is the story of the Rock Against Racism movement featuring unseen footage of artists of the 70's and the Love Music Hate Racism (LMHR) movement today. Groups like Steel Pulse, Sham 69, The Clash and Ms Dynamite will be featured. The film tracks the rise of racism and the National Front in Britain and how a generation, black and white, fought back. There will be a post screening discussion and songs from Birmingham's very own singer songwriter Yaz Alexander. Incidentally Yaz will also be supporting the Mighty Diamonds at the same venue, on 17 March.

Then during most of June, from the 4th to the 29th to be precise, artist and musician
Colin Gabbidon
will have an exhibition of his paintings on show at The Drum. In
Birmingham & the People Of
, Colin has captured the beauty of Birmingham city, the people and their rich cultures from the 1920s to the present day. Featuring oil paintings, pastels and water colours tracing Birmingham's historical landmarks through the decades. I've known Colin for a few years and he's already exhibited his art in Germany and in his home town of Birmingham at the Symphony Hall and Central Library. He's also sketched and painted many famous musicians which he's sold to retail outlets and street sellers, including one of his Bob Marley paintings that has been widely copied throughout Europe and America (see above). When he's not painting, he's the drummer with reggae group Gabbidon. You can find out more about Colin
here
.