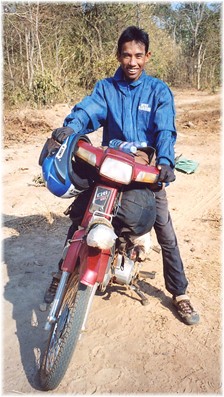 I can never shower enough praise onto the shoulders of my favourite people in Cambodia. One of them is
Sokhom
, my best friend, guide, translator, moto-driver and all round top bloke. He lives in Kompong Thom and this is how I describe him on my
Recommended Guides
webpage on my site:-
I don't say this lightly, but I would, and frequently do, trust this man with my life. Sokhom has been my moto-driver and companion on some of my toughest and most gruelling journeys around Cambodia since I first met him in December 1999. Our first forays into the northern half of the country were localised affairs to Sambor Prei Kuk and Phnom Santuk but subsequent trips have seen us battle against the heat, humidity and atrocious road conditions to get to remote temple sites like Koh Ker, Preah Khan and Preah Vihear. He's become a true friend and comrade, he has a great sense of humour and between you and me, he can eat for Cambodia! Even though I take him away from his wife Sroy and adorable daughter Kunthea for three, four or five days at a time, the welcome and hospitality I receive never fails to be a warm-hearted and genuine one.
Im Sokhom was born in Phnom Penh forty years ago. He survived the Pol Pot years and fled the country for a refugee camp on the Thai border before returning in 1992 to settle in Kompong Thom. English-speaking moto-drivers in Kompong Thom are a rarity, so Sokhom has become something of a minor celebrity with a name-check in English, German and Japanese guidebooks as the man to track down in his town. His expert knowledge of his own province and those further north is invaluable to anyone seeking to explore this fascinating part of the country. He was presented with a bicycle recently by a satisfied group of touring cyclists, so can also accommodate that mode of transport if required. You can contact Sokhom by telephone: (855) 012 691 527 or by e-mail:
guideimsokhom@yahoo.com
or or
guideimsokhom@hotmail.com
.
The photos of Sokhom above, and yours truly below, were taken on our venture into Preah Vihear province when we met up in January this year.