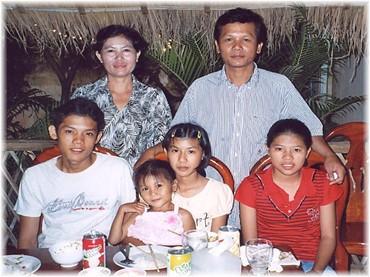 Battambang's finest: LtoR (back row); Theara and Sak; (front row) Chamnap, Holly, Chakrya and Borromey.
Let me introduce you to my friend
Sak and his family
from Battambang. In the last couple of years, Sak has become a very close friend of mine and I love spending time with him and his adorable family whenever I'm in Cambodia's sleepy second city. I spent a few days there in January and the above photo was taken at a restaurant where we went for my goodbye meal. It was the KO music restaurant on the east bank of the river, the food was pretty good, it cost less then $15 for the 7 of us, the singers and band were pretty loud though (what did I expect, this is Cambodia) and the company was great. I can't praise Sak highly enough as a guide and moto-driver, and of course as a friend. He was so excited when we met, as he couldn't wait to show me that the foundations had been laid for his brand new one-storey, two-roomed home. This is a major milestone in Sak's life, which hasn't been an easy one by any stretch of the imagination, and for him, he was overjoyed to be able to share his good fortune with me. I had timed my visit just right. I had a great time in Sak's company for a few days, including visiting the village of Phasysra, near Monkolborei where he was forced to live during the Khmer Rouge regime. And of course, I recommend anyone who is visiting Battambang, to contact Sak beforehand as he'll gladly act as your guide and driver. His knowledge of Battambang and the province is second to none. More details
here
.