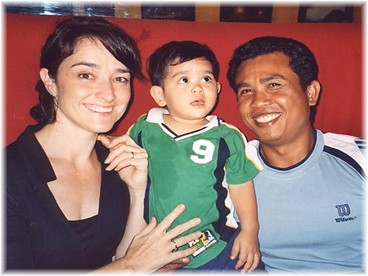 LtoR: Kathy Fossati, Luke, Soum Sophal
Thanks to his wife Kathy, I was able to spring a surprise reunion on an old guide pal of mine,
Soum Sophal
, when I visited Phnom Penh in early February. Kathy is the communications supremo with the NGO HeritageWatch and a few months ago informed me that her partner was none other than Sophal, who I spent a week with in the Cambodian countryside visiting places like Prey Veng, Srei Santhor and the back roads of Kompong Cham and Takeo, exactly four years earlier. Since then, Sophal has hung up his motorbike helmet and replaced it with a variety of tools as his handyman, garden maintenance, decorating, cleaning and construction business has taken off. He employs a lot of staff these days and has also found time to act as a translator for a French film that was produced in Cambodia. But best of all, he's the proud father of Luke and the picture above was taken at our reunion party at the Kandal House restaurant along the riverfront in Phnom Penh. If you need his services, you can contact Bizy Beez on 012 755 913.