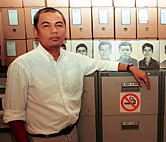 Youk Chhang has spent the last ten years cataloguing the crimes committed by the Khmer Rouge regime three decades ago. As Director of the Documentation Center of Cambodia (DC-Cam), Chhang alongwith the work of his organisation will become a key component in the forthcoming tribunal of those Khmer Rouge leaders still left alive, which is expected to take place early in 2007.

Yale University's Cambodian Genocide Program (CGP) was set up in 1994 to conduct research, training and documentation relating to the Khmer Rouge regime. They founded DC-Cam as a field office in Phnom Penh a year later under the leadership of Youk Chhang and it's abundantly clear that CGP could not have identified a better crusader for truth, justice and the power of history than this former refugee from the Pol Pot regime.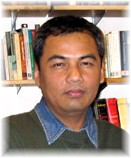 Having lost members of his own family in the Khmer Rouge genocide, Chhang, now 45, left his Thai refugee camp to make his way to Dallas, Texas, where he served as a community relations adviser to the Dallas Police Department from 1989-92. He returned to Cambodia in 1993 as an election observer with UNTAC and to manage and lead political, human rights and democracy training programs in Cambodia for the International Republican Institute. He then linked up with CGP and became Executive Director of DC-Cam in 1997. Chhang is an outspoken figure in his home country as he seeks to bring the Khmer Rouge leadership to book for their crimes. Its been a long hard slog but there's definitely light at the end of this particular tunnel.

To read more about the DC-Cam, who catalogue documents and oral interviews, map mass grave sites, provide training, maintain a library and produce a magazine called Searching For The Truth, as well as a series of books, go to: dccam.org.