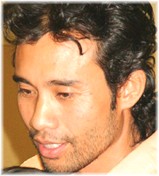 The spotlight today falls on Arn Chorn-Pond and his determined efforts to keep alive traditional Cambodian arts through the Cambodian Living Arts project. As a child under the Khmer Rouge regime, Arn's ability to play the flute saved his life, before he was adopted and moved to the United States. He later spent ten years as a human rights speaker and peace activist for Amnesty International and started an anti-gang program in Lowell and a community service program back in Cambodia. After a visit to his homeland in 1996, Arn turned his focus on music and formed the Master Performers program - supporting the musicians ('masters') who survived the KR era when as many as nine out of ten performers perished - as part of the wider Cambodian Living Arts project.

Arn (pictured) was the subject of a documentary film called The Flute Player in 2003 and his dream of reviving traditional arts in Cambodia is bearing fruit as CLA goes from strength to strength. Now in its seventh year, in partnership with World Education, they currently support hundreds of art students and teachers throughout the country, as well as teaching, recording and performing programs that encourage traditional music, opera, dance and much more, to flourish. A key step forward is their capture of a three-storey building in Phnom Penh where three masters and their families can live and accommodate classes for over 100 students, and which will act as CLA's first cultural center.

To find out more about CLA, inspired by the vision of its founder Arn Chorn-Pond, go to: cambodianlivingarts.org.