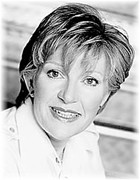 Regular readers of my blog will be aware that Cathy Shipton, the actress who plays the character Duffy in the long-running and very popular BBC tv hospital drama series Casualty, has been out in Cambodia to film a special double-episode of the programme to celebrate the series' forthcoming 20th anniversary in September. You may have even been expecting an update from the visit. Unfortunately, Cathy (pictured) is laid-up at the moment recovering from one of those nasty stomach bugs you can pick up in third-world countries but she did say that she had a fantastic time on all fronts, spending the first week getting to grips with Phnom Penh and her surroundings before getting down to the serious business of filming. She wasn't alone, a 25-strong crew and actor group made the trip with her. When I hear more, I'll let you know.

I've just received a second request from the travel trade quarterly magazine Tourism Asean for permission to print another of my Cambodia Tales. This time Kompong Cham will come under the spotlight in their July-Sept issue. I've tarted up one of my old stories and sent it off to Singapore with some of my photos.

Finally, I've been welcomed with open arms into the wonderful world of blogging by a bunch of fine people, who are already well-established bloggers, and who deserve a thank you from me for their support and approval. Below is an example of a recent post from one such friendly blogger, who resides at sweetcucumber.com. If you have time to surf, please try some of the links and blogs on the right-hand side of your screen.
Brouwer
For my Dutch-speaking friends: no, this has nothing to do with beer (brouwer means [beer]brewer in my language)... Andy Brouwer is an Englishman who has been running one of the oldest - if not the oldest - travelogues on Cambodia (and much more). His adventures in Cambodia date back to 1994, and are an absolute must-read. Up to date information about Cambo - spanning a wide gamut of interests - all written in Andy's eloquent style. Go read.