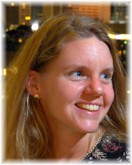 One of the best books by far to get to grips with the situation in Cambodia today is Karen J Coates' Cambodia Now: Life in the Wake of War, published by McFarland Books in 2005. I reviewed Karen's publication for my own Book Review webpage and this is my take on her brilliant book:

Karen Coates (pictured) has written a warts 'n' all view of contemporary Cambodia, giving us a glimpse into how hard life really is in a country traumatized by war but which still retains a magical quality that attracts and infatuates people like Coates and her husband Jerry Redfern, both journalists who worked in-country on and off for six years. Personally, I loved the book, I could hardly put it down. I could relate to many of the people Coates met on her travels, and if you get the chance to stay long enough in Cambodia, you will meet them too.

My emotions fluctuated wildly between elation and dismay as I read the stories meshed together from her interviews with scores of Cambodians, from the fragile hope of street beggar Bun Na, to the dogged determination of commune leader Ly Chheng Ky, a lone woman in a typically male-dominated environment. She introduces us to Choun Nhiem, better known as the old sweeper of Ta Prohm from the cover of the popular Lonely Planet guidebook. She interviewed three people I've met on my own travels; Rithy Keo, a supervisor at the Kien Khleang rehab center just outside Phnom Penh, enthusiastic conservationist Tom Evans, working in the forests of Mondulkiri, and Youk Chhang, the tireless and dedicated director of the Documentation Center of Cambodia. These three are just the tip of the iceberg of unsung heroes and heroines working to make a better Cambodia. But its a tough job and Coates makes that abundantly clear throughout her twenty-one chapters, in which she examines the past, present and future, dissecting Cambodia's many ills and its hopes. This book is a must read for anyone seeking to delve below the flimsy veil of idyllic Cambodian life that most of the tourist hordes see and believe is the real Cambodia. They have little idea of what lies just below the surface.

You can read more about Karen's book, and order a copy, at her own website at: redcoates.net. I recommend that you do get hold of a copy, its well worth the investment of your time and cash.