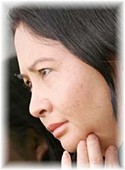 To help her own healing process, Vatey Seng wrote about her experiences under the the Khmer Rouge regime. It took her sixteen years to complete and she called her story, The Price We Paid. Her book was self-published late last year through iUniverse and deserves its place amongst the survivor memoirs that are a lasting testimony to the extreme price that was paid for the Khmer Rouge revolution in Cambodia.

The daughter of a Cambodian military officer, Vatey (pictured) was born into a comfortable middle-class family in 1961. Following the Khmer Rouge victory in 1975, the family - Vatey, her two brothers, five sisters and parents - was forced to abandon their Phnom Penh home. What followed were brutal and dangerous years of forced labour in a series of work and so-called re-education camps. The death of her father, which remains a mystery, occurred early on. During the chaos following the defeat of the Khmer Rouge, Vatey and the remaining members of her family sought refuge in a refugee camp near Thailand. However, the camp was vulnerable to raids by Vietnamese troops and bands of Khmer Rouge soldiers. Married and pregnant with twins at the time, Vatey and her family staged a daring escape and fled to a safer camp in Thailand, where, because her father had been in the military, she and her family were allowed to apply for political asylum to another country.

After spending seven months in the Thai camp and nine months in the Philippines waiting for a sponsor, the family flew to the United States in 1982. Sponsored by the the Catholic Church in Illinois, Vatey, now 21, started out working at a curtain factory, later taking a job as a housekeeper at a hotel. In 1985, she moved to Oakland where she returned to school and earned an Associate of Arts degree in business accounting and word processing. Now 44, and the mother of a 16-year-old daughter, as well as her 24-year-old twins, Vatey works as accounting supervisor at Alameda County's Environmental Health Department. Although 30 years have passed since the beginning of her ordeal, she still has nightmares and relives the painful memories that haunt her. She wakes up, scared and in tears. "I just want it to end," she says. "And I do feel much better after I published the book. But I want the leaders (of the Khmer Rouge) to know what it cost - how they made people suffer."

Vatey has returned to Cambodia twice since her move to the US. The first time was in 1996 and she admits that she felt so scared that she spent most of her time in Phnom Penh. Her next visit, in July 2004, was very different. "We could go to many places, we stayed in Battambang for 3 weeks and went to Siem Reap to see Angkor Wat, Banteay Srei and the waterfall on Phnom Kulen. I had so much fun and felt so good when I was in the countryside. I will take my mom next time, she's 75 and I want her to visit home at least one more time." Despite the occasional nightmare, Vatey concludes, "I've never felt so peaceful and happier as I am right now."