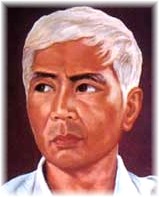 Phatry Derek Pan writes for the Phnom Penh Post and one of his recent stories highlighted the failing health of Vann Nath, potentially a key witness in the Khmer Rouge tribunal scheduled for early 2007, but renowned worldwide for his paintings depicting life and death in the notorious Tuol Sleng Prison. His art and his life story have received press coverage around the globe over many years and he was prominently featured in Rithy Panh's award-winning documentary film, S-21 - The Khmer Rouge Killing Machine. He also wrote about his own experiences in prison in the book, A Cambodian Prison Portrait - One Year in the Khmer Rouge's S-21, published by White Lotus in 1998.

The PPP news story of Vann Nath's serious health problems, can be found on Pan's blog at: phatrypan.blog.com/608256.
My own webpage on Vann Nath and his paintings that are on view at the Tuol Sleng Museum, can be seen at.