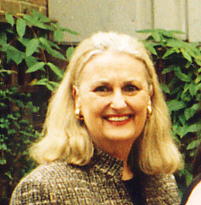 One of the rewarding elements of my involvement in Cambodia over the last few years has been my contact with some of the notable authors who've produced a growing selection of books about the country. I can't speak highly enough of each of them, in particular art historian Dawn Rooney (pictured), who has penned a number of books on Southeast Asian art and culture, particularly her oft-reproduced Angkor: An Introduction to the Temples.

Dawn has been a deep well of information over the last half a dozen years and in her latest email tells me she's on her way back to Cambodia to work with Vittorio Roveda on a forthcoming book they're doing together and to work with the ceramics team from APSARA regarding the month-long mapping they have done of the kilns at Anlong Thom on Phnom Kulen. The book with Roveda, himself an author steeped in Khmer mythology and who's just brought out the meticulous and massive tome Images of the Gods, will be one to look forward to. I believe its aim is to provide a comprehensive review of all of the major and secondary temple sites across Cambodia, a feat not done before as most books linger on the Angkor temple complex and give scant reference to all the other temple sites across the country. As someone with an unquenchable thirst for visiting these temple sites, its certainly a book I've been waiting for, for a long time. And in Rooney and Roveda, its a double-act that will undoubtedly do a seriously good job. And its timely too, with more and more travellers getting away from Angkor and into the beautiful Cambodian countryside to visit places like Banteay Chhmar, Koh Ker, Preah Khan of Kompong Svay, Preah Vihear, Sambor Prei Kuk, the temples of Battambang and Kompong Chhnang, Wat Nokor, Phnom Da and so on. The list is a long one.

After a few years of email contact, it was a real pleasure to meet her for the first time when she took time out of a visit to England to spend the day at my Magic of Cambodia Day in September 2004 as one of our guest speakers. She delighted the audience with her intimate knowledge and experiences, interwoven with her own photographs, during her hour long talk, entitled Angkor: Up Close & Personal. Since her first visit to Angkor in 1969, she's clocked up over 80 visits and is also working on another book as we speak, A History of Cambodian Ceramics with Bonnie Baskin. The book will showcase 2,500 years of pottery in Cambodia. Few people realize that the ceramics tradition in Cambodia goes back to at least 1,000 b.c. It is a tradition that has never been chronicled, detailed, or interpreted until now. And with the research in Cambodia that has taken place in the past five years, there is a wealth of archaeological data for scientific evidence. Its a field in which Dawn is regarded as one of the leading specialists. Also the 5th edition of her Angkor book, is expected to be published anytime soon. To call Dawn prolific would be an understatement, and we haven't even touched on her numerous articles and lectures, tour-leading trips and more.